Happy Golf Online
Workshop for

WOMEN
Discover Your Confident Golf-Self!
March 5th

, Sunday
@10 am - 11:30 am PST
Online

Workshop v

ia ZOOM
*RECORDING IS AVAILABLE
Be Happy. Improve Your Golf Game.
Do these sound like you..?
I don't know how to improve my game and get frustrated.

I have

fear of being nervous and cannot control it.
I see water or my ball in the bunker and panic!

I am not clear about swing technique.

I get frustrated when I top or chunk the ball.

My balls are always going right, why?
If you answered YES to any of these, then this Happy Golf Online Workshop is exactly what you've been looking for.
This workshop is

Embarrassment FREE

,

so register today and invite a pal!
REGISTER TODAY>>
You'll finally..
Understand how the mind works and improve your game using your mind
Ditch the endless loop of fear, especially nerves and tough shots
Score better
Understand how the golf swing works
Understand why bad shots happen with case studies (submit your swing to be featured)

E

njoy golf more and be happier :)
What you'll learn in the workshop
Swing instruction
Improve your Ball Striking!
Christina will provide detailed swing analysis of several participants to share the popular culprits and how to resolve.
Submit your swing no later than by March 4th for the opportunity to get a FREE swing analysis by Christina
If you cannot submit by March 1 for the Workshop, head to morepars.com to book a Review at any time. The fee is $125.
*You will receive the instruction after you registered.
Mental coaching
Use your mind and play better and be happier in life!
We have 60,000 thoughts a day! You'll learn how to use your mind to improve your game and life. After the workshop, you will think differently.
You will learn the tools how to reduce fear and anxiety and gain confidence.
You'll feel better and empowered with all the tips you can apply right away!

You are more than you think you are!
Q&A time
Ask anything to Christina and Kumiko!
After attending the workshop..
30 min private coaching call with Kumiko
You get on Zoom with Kumiko. She assesses your golf game and shares tips to improve your game.
Workshop Schedule
Date: March 5th, Sunday
Time: 10:00 am - 11:30 pm Pacific Time
Place: Zoom Fee: $39
✔️Recordings are available just in case you can't make it
SIGN UP!
Meet Your Workshop Instructor & Coach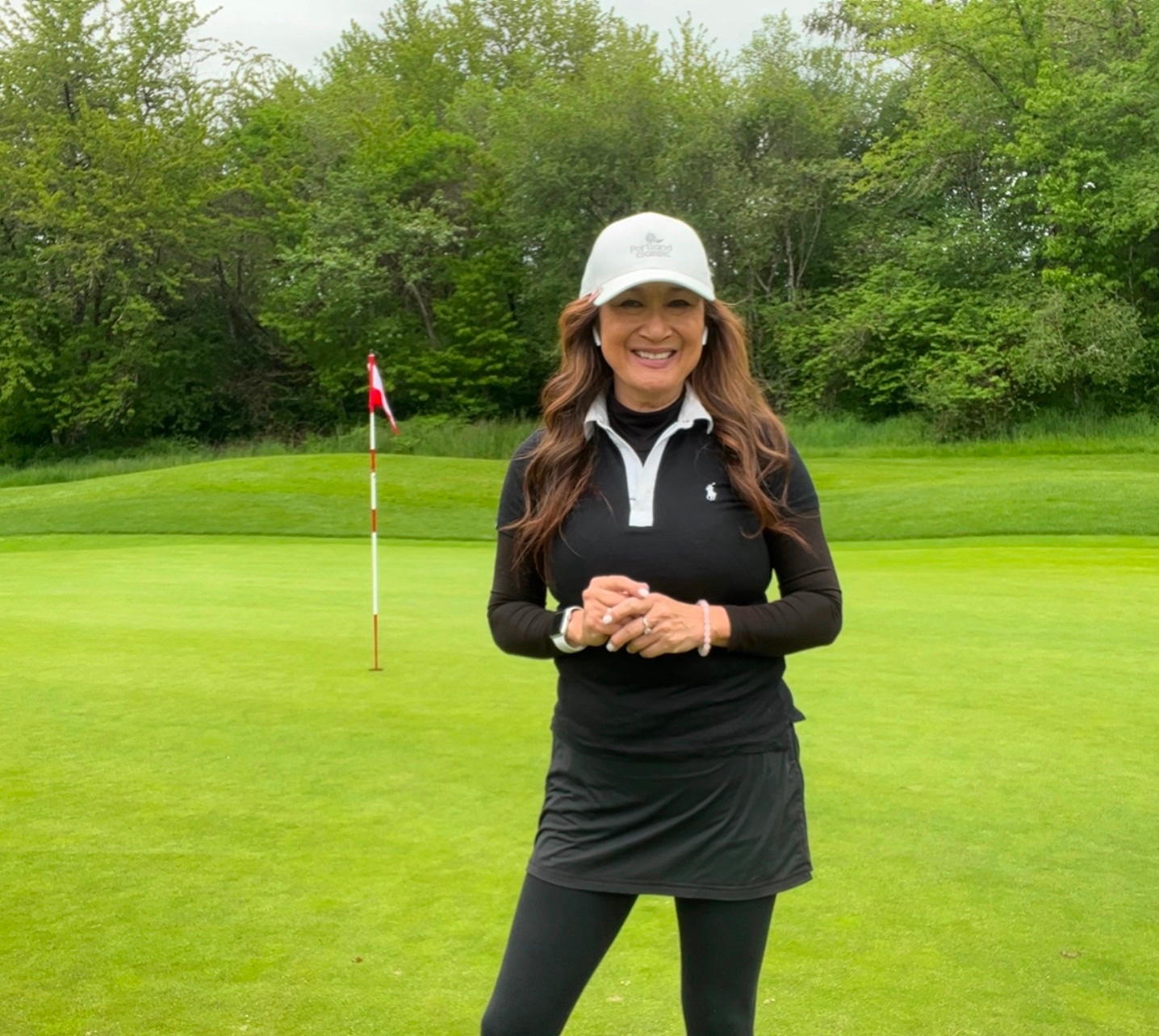 Kumiko Rodewald
I am a mental golf coach, NLP practitioner and "golf therapist", and author of the upcoming book, Does Golf Devil Whisper in Your Ear? Using Your Mind to Play Better and Be Happier in Life.
I have brought a positive influence on many golfers as a coach and a passionate, competitive golfer.
I have worked with golfers at all levels to improve their game and become happier in life using their mind. I coach golfers holistically.
Many of my clients say they have improved their golf game and become more grounded since they worked with me.I created my unique coaching method through years of my journey as a passionate, competitive golfer. I provide her clients the opportunities to improve their golf game and become happier in all areas of life as they work with me. I love to share happy vibes with everybody around me.
Christina Ricci
Christina took up the game in 2000 and dropped to a 5 handicap in five short years. She published her first book A Girl's On-Course Survival Guide to Golf in 2008 and never looked back. Her most recent More Pars books (3) can be found on Amazon or MissPar.com. She has a loyal social media following with her Tip of the Weeks featured on morepars.com and her More Pars YT Channel: YouTube.com/c/morepars
She also offers More Pars Virtual Camp experiences. All her offerings can be found here on morepars.com. Her MorePars.tv (app) is where players can stream all of Christina's video content (golf and golf-fitness) from any device.

Her teaching philosophy is student-centered with a focus on fun. She believes that when a player is having fun, they are more engaged in the learning process. She coaches adults of all skill levels.

She's been featured on the cover of GolfTips magazine and her popular golf tips are featured on the Golf Channel, and online portals such as WomensGolf.com as well as Golfforher.com and LPGA Women's Network.

Prior to golf, Christina had her own design firm that helped small to mid-sized companies get better branding. She graduated from Boston University with a Bachelor's degree in Business with a focus on marketing. A past president of Women in the Golf Industry Women in the Golf Industry, and served as a Board member for over five years.
What Kumiko's Client says..
I am a senior woman who has enjoyed playing this game for 35 years.
I also worked at my local course for 19 of those years.
Lessons with our club "pros" gave me the swing technique but the "mental side"
of this game was always my downfall.
After participating in Kumiko's mental golf game workshops I could finally stop beating myself up over a bad round, let a bad swing go (in 10 seconds) and move on to the next shot, and really enjoy this game once again.
It was as if someone turned the lights on and I could see that it was me not believing in myself and my confidence spiraled downward.
Kumiko has the tools and will help you understand what's needed to play your best once again. She is positive, practical and doesn't promise you a miracle overnight. With practice and dedication improved and received our"Most Improved Player " during my classes with Kumiko.
Give her classes a try, I know you will be pleased that you did.
It's never too late to improve.⛳️😉
Candice Scharper
What Christina's student says..
I just wanted to say thank you for an amazing 3 days. I learned a ton and it was so fun. Also today I played 9 holes and I think I shaved 10 stokes off my score! And no 3 putts. It's very exciting. And what's more, I now love to practice!!!! So thank you! It was also just fun to watch you in action- you're the energizer bunny! - Hilary
I feel fantastic about everything I learned over the 4 days! I have one or two things in each aspect of the game that needed tweaking (or more), and I don't feel overwhelmed at all. For me, I feel like I learned how to practice for the next level of play, and I feel excited about it. I loved the TrackMan. That was eye opening. THANK YOU!! - Brenda

Just wanted to thank you for a wonderful clinic it was very well organized executed and professionally put together.! I am diligently studying the lowers half movement ( which hasn't been an issue of mine lol) but clearly is now will let you know about my journey and quest to develop an awesome Lower body move. All the best Phil

Amazingly, you taught me how to fade the ball with just 3 swings of my driver. You were diligent, patient, tireless and fun. Cathy and I had a wonderful time at your camp. You are a gift. Stay well. Rocky

A great experience, great feedback, and amazing teaching aides. I look forward to getting the videos. We will help each other out to reinforce the training. I look forward to another camp when I feel I've progressed. Again, thank you. Jo